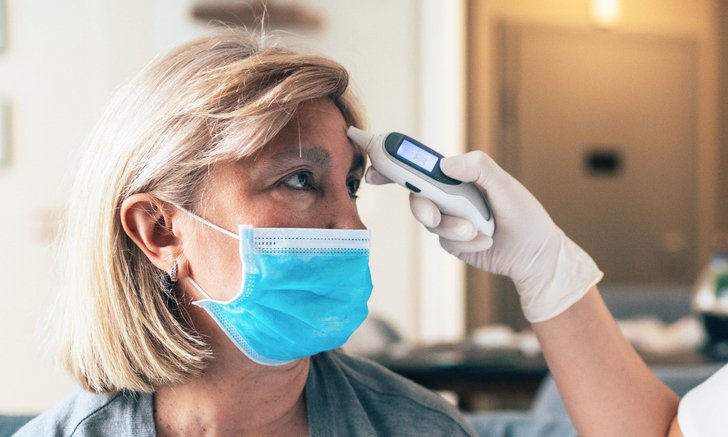 Eagerness to open up the business sector Department store And various sports venues around the world making technology look 'Thermal imaging cameras' that can capture the body temperature of people entering buildings to prevent the spread of COVID-19. Caused by the corona virus
The experts said Demand for automatic fever measurement technology has been increasing worldwide since the outbreak. But there are also concerns about privacy, security, and other workplace issues.
Bhaskar Krishnamachari A professor of electrical and computer engineering at the University of Southern California, companies must take into account the fact that Gathering information, especially information about that person, is seen as more of a responsibility. For example If the information has been stolen Or being misused There can be many consequences for organizations. Related
Doctor's office store And many beauty salons Use a portable thermometer But they cannot be used in larger venues with heavy traffic, such as stadiums and airports.
Data from the US Food and Drug Administration (FDA) indicates one solution. Is to use a heat detector or sensor attached to the building entrance. Which, when used correctly These systems accurately measure individual temperatures.
Prior to the outbreak, Thermoteknix Systems Ltd. in England shipped approximately 10 devices a month for FevIR Scan Fever body temperature measurement devices. The demand for such thermal imaging cameras is soaring.
The company now has to ship as many as 100 devices a day worldwide. Thermoteknix has developed hardware and software for the FevIR Scan, an infrared camera that measures body heat. By detecting the temperature around the tear ducts of the eye To get the best relationship with body temperature.
Chris Bainter, FLIR's vice president of global business development in the US, said the company's infrared cameras would detect the last 10 people with skin temperatures higher than the 10 tested. To explain the environmental changes throughout the day
However, there are limitations to these thermal technologies, according to the FDA - people infected with COVID-19. Can spread the infection without having to have a fever And fever is just one symptom of COVID-19.
Although companies say their technology can measure the temperature of multiple people at a time, the FDA doesn't recommend it. This is because systems of this type do not show accuracy when measuring temperatures of several people at the same time.
The FDA guidelines recommend that you measure your fever one by one at a specified distance. And companies should install multiple devices, such as an infrared camera at their entrances, so that more people can walk through the gates faster.
The University of California Berkeley
slotxo
research center said that while heat scanners at the building's entrance could protect the workers inside, By keeping people with fever from entering the building But this technology also creates problems in the workplace, ie if an employer forbids employees from entering the company because of a fever. Should give employees paid sick leave This is to prevent workers from trying to sneak into work when they may have already been infected.
Technologists also warn that There should be a thorough investigation of privacy whenever information about people or their behavior is collected.